February 14, 2023
Drive efficiency by mapping your data.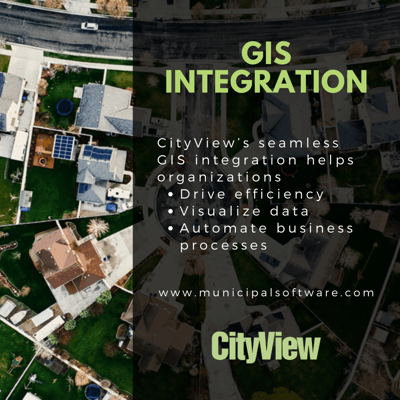 How would you like to…
• Integrate spatial awareness and routing capabilities for inspectors
• Search spatial attributes from a map
• Automatically generate correspondence to select properties based on GIS information
• Assign inspectors based on property location

CityView's integration with Esri's ArcGIS Server or ArcGIS Online allows you to do all of this and more. Assimilate mapping and spatial analysis into the everyday business activities of CityView users in the office, in the field and publicly. For example, you can view publicly accessible web map services created by external agencies.
By integrating your CityView Suite with your existing GIS provider, such as Esri, you can drive efficiency, visualize data and automate business processes; here's how:


Drive efficiency
Our deeply integrated GIS capabilities allow municipal staff to:
• Quickly locate a job location on a map
• Measure distance, boundaries and areas
• Create buffer selections for mailing lists
• Kick-off permit and other processes from the map
• Spatially analyze the surroundings of subject properties
Visualize data
By integrating spatial awareness and routing capabilities into your CityView Mobile solution, inspectors can quickly and easily see where their inspections are on a map so that they can plan their most efficient route (down to turn by turn directions and multiple options for route optimization), saving both time and money. Not only that, but they can also view search results on a map. For instance, you can flag activities of interest for other users to see, such as a planned route for an overloaded vehicle, street closures for maintenance, etc.
Automate business processes
Use spatial queries to drive efficient business processes, such as determining which inspector to assign based on the area in which the property is located. Plus, automatically generate correspondence to select properties based on GIS information.
Are you ready to take advantage of CityView's seamless GIS integration? Learn more; request a quote today!