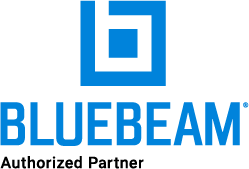 More than 1.6 million design and construction professionals worldwide trust Revu to elevate project efficiency and collaboration.
Bluebeam® Revu® is designed to speed up communication and minimize project delays with award-winning PDF creation, editing, markup and collaboration technology. You'll drive project efficiency by using markup data throughout the project and streamline processes to get more done in less time.

Discover how Bluebeam products can help your organization take paperless workflows to a whole new level.
See How it Works
Watch the video below to see Bluebeam Revu in action!
Benefits
Work better together with Revu through the whole project lifecycle
Design & Review
Design Review: Revu speeds up design reviews by allowing project partners to mark up and collaborate on the same documents in real time or any time.

QA/QC: For architects, engineers and contractors, the markup and collaboration tools in Bluebeam Revu allow for faster, more accurate and more thorough quality reviews.

Plan Reviews: Revu simplifies plan reviews with powerful markup and editing tools and integrates seamlessly into many document management systems to keep your project running smoothly.



Create
Convert an unlimited number of Microsoft Office documents and CAD drawings into high-quality 2D or 3D PDFs, or transform scanned images into text-searchable documents. Save space and reduce clutter by creating ISO-standardized PDF/A files for long-term storage.
Markup
Clearly communicate with clients and team members using customizable, easy-to-use markup tools that can be saved for reuse, and improve project coordination by automatically tracking annotations and generating reports.
Collaborate
Connect and collaborate with project partners in real time or any time, all within a common data environment with Bluebeam Studio®.
Organize
Streamline the maintenance of large drawing sets by creating smart documents that can be shared easily with project partners in the office and the field.
Cloud-Based Collaboration
Bluebeam Studio
Revu comes with powerful document management and real-time collaboration features. Studio Projects give you a single centralized location to store documents—even entire building projects—in the cloud. And Studio Sessions let project teams review, mark up, modify and update the same files at the same time. So partners worldwide can instantly connect on the same set of documents.



Bluebeam Studio Prime
Take the next step in digital collaboration. Bluebeam Studio Prime is a cloud-based subscription solution, which includes all the features of Bluebeam Studio plus additional administrative functionality. Control users' access to managed Projects and Sessions, and download in-depth reports on all Studio activity, all without a seat of Revu. Studio Prime also includes access to the Bluebeam Studio API, which supports external application integrations. Just choose the pricing level that best fits your business needs and start collaborating!
Bluebeam and Revu are trademarks of Bluebeam, Inc., registered in the U.S. and other countries.