August 10, 2023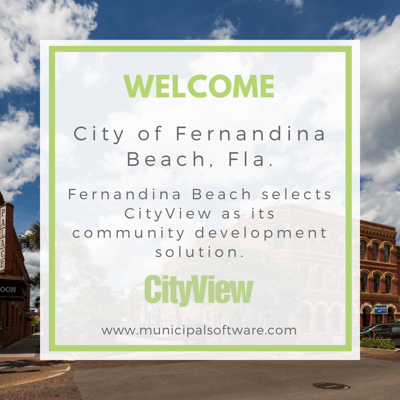 The City of Fernandina Beach, Florida, is about to experience a transformative leap in managing permitting and licensing processes as it joins the CityView family. Fernandina Beach's search for a comprehensive software solution that enhances efficiency, transparency and customer service has culminated in the selection of CityView – a leading community development platform that promises to streamline operations and bring numerous benefits to the community.
Efficient processes and streamlined workflows
With CityView as its new community development and land management suite, Fernandina Beach can bid farewell to the days of cumbersome paperwork and manual processes. The transition to a fully digital system will automate and streamline its workflows, leading to improved efficiency, significant time-savings and reduced risks. All applications and plans will soon be submitted and managed digitally, ensuring a seamless, end-to-end process that minimizes data entry errors and duplicate efforts. Citizens will have access to online interactions for permits, licenses and cases, allowing them to request, schedule, and execute every step – from applications to inspections – with ease and convenience.
Customer-centric interface
CityView's citizen-friendly interface is designed to enhance the experience for residents of Fernandina Beach. Customers will have access to information and services anytime, from any tablet or smartphone, making it effortless to engage with the City's processes. CityView Portal enables online application submittal, payment processing and inspection scheduling, empowering residents, business owners and contractors to take charge of their interactions with City requirements.
Integration with GIS and Bluebeam
CityView's integration with Geographic Information System (GIS) for property mapping and Bluebeam® for plan review and markups will bring new dimensions to Fernandina Beach's capabilities while lowering the total cost of ownership. Combining CityView's powerful tools with third-party integrations such as Esri and Bluebeam will facilitate a comprehensive and sophisticated approach to managing land data, and plans and reviews, respectively. This level of tight integration helps to enhance accuracy, collaboration and decision-making throughout the City's operations.
Efficient inspections with CityView Mobile
CityView Mobile empowers inspectors by providing all the necessary information in the field, eliminating the need to return to the office for data entry. Inspectors can complete inspections and record results in real-time, making the process more efficient and enabling quicker responses to the community's needs. This mobile solution optimizes the City's time and resources, ensuring a seamless experience for both inspectors and applicants.
Transforming operations
The City of Fernandina Beach's decision to embrace CityView as its permitting and licensing provider marks a significant step towards transforming the City's operations. With increased efficiency, transparency and citizen-centric features, CityView is poised to elevate customer service and streamline processes.
"We were impressed by the presentation and the customer service provided by City View. After asking our counterparts in other municipalities who have City View, we feel confident we are making the right move to improve citizen relations," said the City's Building Official, Jimmy Parr.
Embracing advanced technology and seamless integration with GIS and Bluebeam, CityView will provide Fernandina Beach staff members with the tools they need to manage electronic records effectively, optimize inspections and offer a modern, user-friendly interface for citizens. The CityView family warmly welcomes Fernandina Beach and eagerly anticipates a fruitful partnership that will enhance the community's well-being and success.
About the City of Fernandina Beach
If you measured history per square mile and graded it by the beauty of the natural backdrop, Amelia Island and Fernandina Beach might be able to claim the most spectacular heritage in Florida. It's known as the "Isle of 8 Flags" because eight national flags have flown over this magnificently beached and forested spit of land, the most southern of the sea islands that trail down the Carolina and Georgia coasts.
Fernandina Beach is also the birthplace of the modern shrimping industry - shrimp boats depart the docks most days. Wide beaches on the east frame the Atlantic Ocean, where shrimp boats prowl among the whitecaps, whales calve in the fall and sea turtles nest in the summer.