February 6, 2023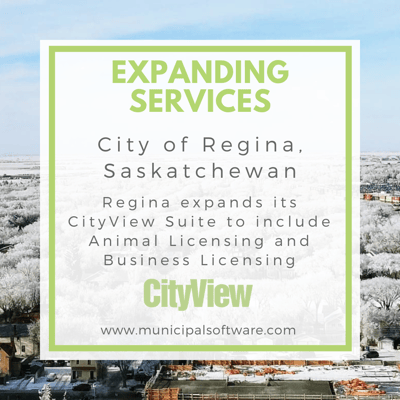 CityView is a comprehensive software solution that is engineered to flex with you as your needs change. Customers often add-on modules as they grow because the system is easily scalable. The City of Regina recently did so, adding on two licensing modules, Animal Licensing and Business Licensing to its existing CityView Suite of solutions.
By brining animal licensing online, Regina will be able to trade time-intensive, manual processes for efficient electronic managing of animal licensing including issuing, renewing and billing. Additional benefits include:
Easy registration and renewal for animal owners
Find lost animals with GIS integration
Search pets by license number, property, owner, distinguishing features, etc.
By adding on Business Licensing, Regina will be able to facilitate the renewal process through automation and support economic development initiatives via the wealth of data this module provides. Not only that, but Regina will:
Deliver convenience for city business owners, as they can complete the entire licensing process online
Never miss a license renewal with accurate tracking
Increase revenue by letting the system do the calculations, ensuring fees are collected promptly
Discover how CityView's licensing modules can help your municipality.
About Regina
Regina is the capital of Saskatchewan and the 16th largest city in Canada with a population of 226,404 as of the 2021 Census. Regina is located on Treaty 4 land and within the traditional territory of the Metis. Indigenous people have lived in this region through many thousands of years.
European settlement began in the 1880s as an agricultural community and served as a distribution point for farm materials and produce. Regina became a city in 1903. Two years later, Saskatchewan became a province and chose Regina as its capital. Today, this diverse and vibrant community is one of Canada's fastest growing major cities.