February 21, 2023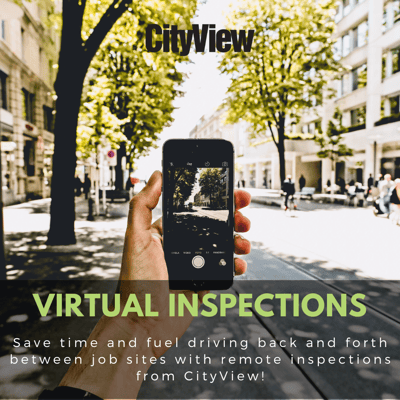 Many municipalities across North America began adopting remote inspections as a way to maintain social distancing during the COVID-19 pandemic. But once the many benefits were realized, cities and counties continued to employ video inspections, allowing the practice to grow. Take a look at the top three benefits of CityView Virtual Inspections.
1 - Save fuel and drive time
Adopting remote inspections means your organization will improve its carbon footprint, save on fuel costs and be able to perform more inspections per day, without hiring more inspectors.

In fact, not only can CityView customers save up to $15 per inspection with our Virtual Inspections software, but nearly every case, the cost of licensing for all inspectors would be repaid within the first year.
2 - Integrated with Permits & Inspections
One unique aspect of CityView Virtual Inspections is that it is fully integrated with our Permits & Inspections module. Maintain a permanent record of the virtual inspection directly within the permit, including screenshots, videos and annotations. There's no need to manually send, manage or store photo or video files.

Stand-alone applications such as FaceTime, WhatsApp, etc., don't always allow recording and photos have to be sent to the inspector for later viewing. CityView enables real-time interaction to eliminate the need for manual file handling and the possibility of files being lost or not being captured against the inspection.
3 - Technologically independent
No third-party technology or special equipment required. CityView provides the software license and takes care of third-party carrier fees. CityView Virtual Inspections uses secure, straight peer-to-peer communications between the CityView server and the builder or contractor's mobile device. Unlike potentially insecure video conferencing technologies, the peer-to-peer communication does not transfer data through third-party cloud environments.

How does it work? It's simple! The inspector sends a text from Workspace on his computer to the contractor, who is on site, asking him to join a meeting. The audio and video activate when the contractor accepts the request. The inspector directs the contractor on where to walk, zoom in, pan out, etc.
Are you ready to make a long-term investment in efficiency?