August 7, 2023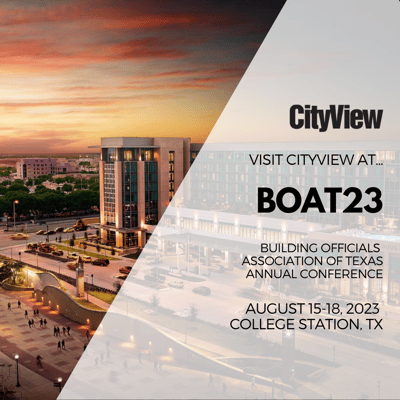 CityView is an exhibiting silver sponsor at the 2023 BOAT annual conference. The event will take place from August 15-18, 2023, at the Texas A&M Hotel and Conference Center in College Station, Texas.
Organized by the Building Officials Association of Texas (BOAT), its annual conference is a premier gathering of building officials, sponsors, vendors and industry experts within the state.
This year's theme, "Building: Stronger. Safer. Together," underscores the importance of collaboration and shared expertise in creating more resilient and secure communities.
CityView is enthusiastic about contributing to the conference's objectives and engaging with attendees to explore how its community development and land management software solutions can help Texas municipalities improve efficiency and position themselves for growth.
For more information about the conference, including the full schedule of events, please visit the official BOAT Annual Conference website.
Stop by the CityView booth to discover how we can work together to build stronger, safer communities for the future. We look forward to seeing you there!