November 16, 2022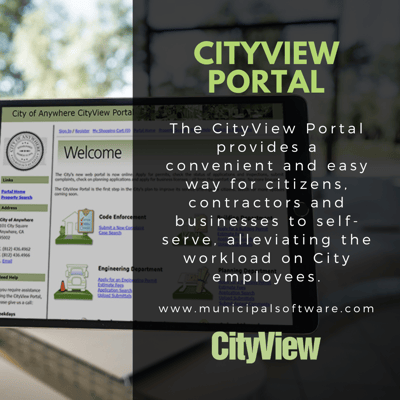 The CityView Portal provides a convenient and easy way for citizens, contractors, and businesses to self-serve, alleviating the workload on municipal employees. Save time and increase customer service. A few benefits of the CityView Portal include:
Citizens

gain one-stop access to initiate permits and inspection requests, check status and pay fees
Businesses

can apply for licenses, obtain up-to-date status information pertaining to their business license or business license application, and pay any fees they owe, including renewals
Employees

improve productivity by eliminating double entry and data redundancy, since the Portal is fully integrated with your existing CityView Suite
"The Portal averages 4.5 registrations a day, seven days a week for us. The CityView Portal helped keep business as usual [during the pandemic onset]. We anticipate to hit 15,000 active Portal users in May of 2023." - Kevin J. Cully, Cherokee County, Georgia
Let's talk. Reduce office calls and improve citizen engagement; ask us for a short demo on the CityView Portal.