April 12, 2023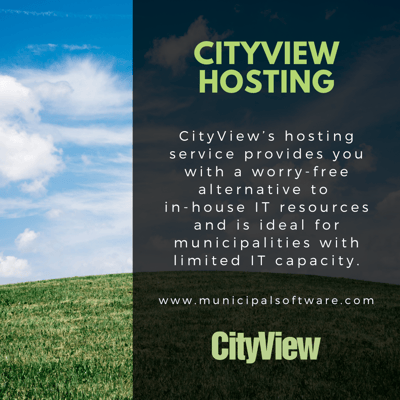 CityView's hosting service provides you with a worry-free solution and is ideal for municipalities with limited IT resources or those looking to reduce IT costs. No hardware to purchase or maintain; no license or maintenance fees; no client to install…plus:​
Easier administration for your IT staff
Your data stays secure in the data center in Pittsburgh, PA
Reliable infrastructure in a professionally managed data center
Reduced time-to-value for new features and functionalities as your product is kept up to date with the regular updates and enhancements provided by CityView
Cybersecurity is top of mind for most local government agencies as stories of breaches are plentiful in the news. Most recently, the ransomware attack on Modesto's IT network may cost the city at least $1 million for expert help in recovering from it and for better IT security that could have deterred the attackers, GovTech reports.
Gain peace of mind by moving to the cloud. CityView's hosting service helps keep your data secure with our award-wining hosting provider, Expedient.
Will Smith from the City of Quinte West, Ontario, says: "Going with Harris' hosted solution has allowed us to up our internal security, take away an attack vector and rely on CityView expertise to keep their system secure. As an added benefit, we've also noticed an increase in speed on our mobile system."
Ready to get started? Contact us today!