September 17, 2023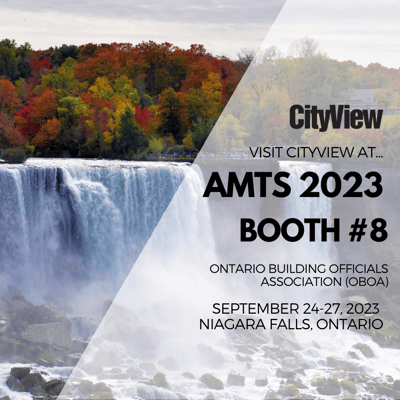 Are you ready to unlock the future of building regulations? Join us at AMTS 2023, the Annual Meeting and Training Sessions hosted by the Ontario Building Officials Association (OBOA) in picturesque Niagara Falls, Ontario, September 24-27, 2023.
CityView will be exhibiting in booth 8 - stop by and learn how our solutions can help your local government organization:
Streamline plan reviews with our integrated Electronic Plans Review (EPR) solution. Who wouldn't like a paperless solution for plan reviews that saves time, money and the environment while driving customer satisfaction? It's a win-win!
Offer online self-service options to citizens, contractors and businesses via CityView Portal. This powerful platform reduces the workload on municipal employees by allowing developers and contractors to apply for planning and zoning approvals, view status, request meetings, pay fees, and keep informed on project progress.
Get the support you need, when you need it. CityView's team of experts, many of whom worked for public sector organizations themselves, are committed to exceeding your expectations by providing reliable and consistent support.
Visit us in booth 8 at AMTS to learn why local government organizations have been choosing CityView as their community development and land management solutions since 1982.