September 26, 2023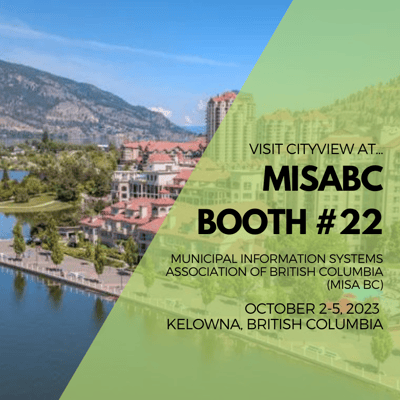 Are you an information systems professional working in local government? Get ready to deepen your community connections at the MISA BC 2023 Fall Conference in Kelowna, British Columbia, from October 2-5, 2023.
CityView understands that cybersecurity is top of mind for most local government agencies as stories of breaches are plentiful in the news. Swing by booth 22 to learn how:
CityView's hosting service provides you with a worry-free solution and is ideal for municipalities with limited IT resources or those looking to reduce IT costs.
Our reliable infrastructure in a professionally managed data center means your data stays secure.
CityView's business continuity services can keep your systems running smoothly, even during natural disasters, so you can continue to serve your community effectively.
The theme of this year's MISA BC Fall Conference is "Connected in Community." At CityView, we resonate with this theme, as our solutions are designed to help local governments connect with their communities in a meaningful way. By visiting our booth, you'll be taking a step toward strengthening your organization's connection to the community it serves.