May 9, 2023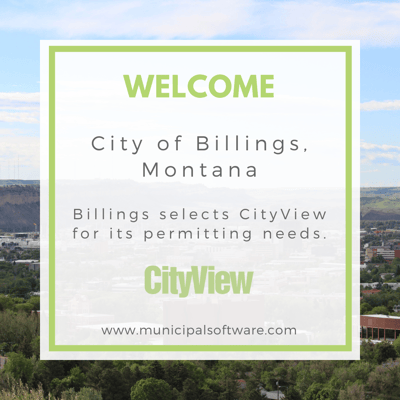 CityView, a leading provider of community development software solutions, is thrilled to announce that the City of Billings, Montana, has selected CityView as its partner for a comprehensive solution to manage online permit applications, electronic plan submittals and reviews, land use applications and permit reviews across multiple departments. CityView was chosen after careful consideration due to its exceptional flexibility and integration expertise.

One of the key factors that influenced Billings' decision is CityView's powerful configuration and workflow tools, which will provide the flexibility and efficiency the City requires as a growing regional hub of Billings and Yellowstone County. CityView's integration expertise also lowers the cost of ownership by providing tight integrations with third-party products, enabling Billings to seamlessly integrate with its existing systems.
Lewis Gouge, regional sales manager for CityView, expressed his excitement about the new partnership, stating that, "CityView is honored to partner with Billings to provide a modern and comprehensive community development solution so the City can fulfill its mission to the growing metro area." The CityView team is dedicated to ensuring exceptional customer service and support to help the City of Billings meet its development and permitting needs now and into the future.
Billings plans to implement a full suite of solutions, including CityView Portal, CityView Electronic Plans Review (EPR) and CityView Mobile. These solutions will help the City:
• Modernize its technology stack
• Improve employee productivity
• Increase convenience for citizens
CityView Portal will provide a convenient and easy way for citizens, contractors and businesses to self-serve, while CityView EPR will deliver a paperless solution for plan reviews that saves time, money and the environment. CityView Mobile will help Billings reduce the number of phone calls to its office and eliminate duplicate data entry by equipping inspectors with the ability to manage and record inspections in the field from a mobile device.

CityView is thrilled to partner with Billings and looks forward to the positive impact its solutions will have on the City.


About Billings

Billings is the largest city in Montana and has a population of more than 117,000. It is the seat of Yellowstone County and the principal city of the Billings metropolitan area. Billings is the trade and distribution center for much of Montana east of the Continental Divide, northern Wyoming, and western portions of North Dakota and South Dakota. It is also the largest retail destination for much of the same area. The city is experiencing rapid growth and has the largest growth of any city in Montana.